A butcher block desk might just be what you're looking for in a workspace. Its solid durability and unique color make it a popular choice among those who want to make their office space look good. If you are looking for the best butcher block desk ideas, you're in the right place.
We will also be taking a look at some of our top picks for this kind of desk in particular. Whether you have some space to work with or plenty of it, there's a good desk for you. And you'd be hard-pressed to find something that will fit you perfectly anywhere else.
Butcher block desks come in different sizes and have some unique features. So you'll want to choose one that fits your needs and personal preferences. Let's dive right in and see what we have available for you to choose from.
Need Computer Desk: Best For Those Who Want Something Simple
If simple is the name of the game, then you'll just want to get the Need Computer Desk. This comes in four different measurements: 39, 47, 55, or 63 inches. You can choose the length that works best for you so long as you have the space.
Stability is one of the great things about this desk. Just put your computer and other supplies on top and it will hold its own. This is made from wood that is waterproof and has an anti-scratch surface, a huge plus for those who want a desk that is of good quality.
This desk is also easy to assemble so it won't take you an awfully long time to put together. Just follow the simple instructions and you can have it put together by yourself in less than an hour. Once again, it's further proof that if simplicity is what you want, you get it on a desk like this.
Finally, you have a choice in colors to choose from. However, the Teak and Black combination might just be the best option if you are looking for that butcher board look.
The measurements for the large size desk include 63" (L), 23.7" (W), 29.5" (H).
Pros:
Super sturdy
Multiple sizes to choose from
Simple assembly
Cons:
The edges may be a bit sharper
Home Office Adjustable Desk: Best For Those Who Want Versatility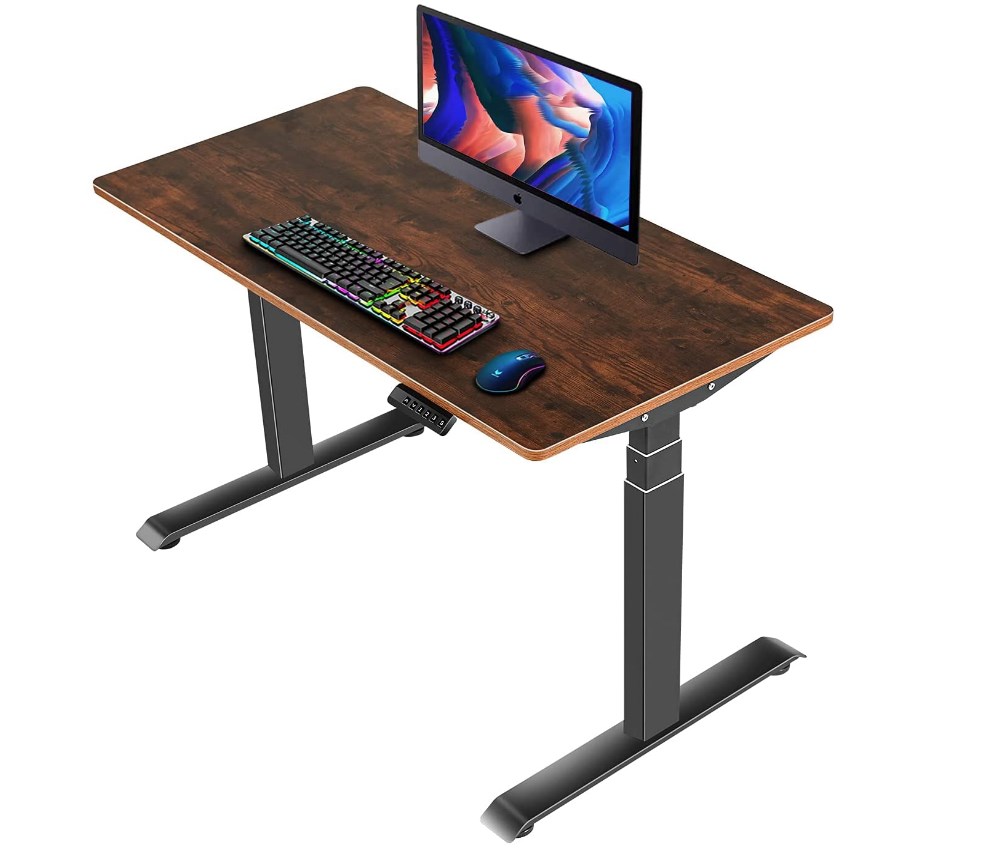 Adjustable desks are all the rage these days. And this one is no different. One of the reasons why a desk like this is popular is that it allows you versatility.
In other words, you can adjust it to where you can sit down in an office chair. Or you can stand up and adjust it to where you can be able to work while you're not sitting down. If you want a desk that can accommodate you in so many ways, this is it.
This has a simple walnut finish, which makes it sleek and respectable. Even for the price it's going for, it's worth every single penny. You can put this in your home office or a regular office setting if possible.
If you hate sitting all day long and want to avoid the long-term effects of sitting for long periods of time, this is the desk for you. It's a simple adjustable desk with one color finish. But it's worth the money if you just want something that will give you versatility.
The measurements for this desk are currently unavailable at this time.
Pros:
Great for a sitting or standing desk
Easy to adjust
Very sleek walnut finish
Cons:
It May not be enough for a dual display
Vari Electric Standing Desk — Best For Those Who Use Dual Displays
The previous desk we've reviewed had one glaring issue: the inability to handle dual displays. Those who need to multi-task or work fast usually rely on more than one computer display on their desk. And this desk gets the job done.
What makes this desk even better is that it's adjustable. Of course, you can sit or stand. The desk height has a maximum of 50 inches.
If you don't want to sit for longer periods of time, that's a good thing. Because this desk will support your ability to work while standing. This also includes a button system with built-in memory settings. With one touch of the button, the desk will automatically adjust to what you prefer.
This is easy to assemble and has a durable finish that is easy to clean. So if you want a nice desk that won't damage easily, this is your go-to option. And trust us, it's painful spilling coffee on a desk by accident and worrying about the aftermath.
The size measurement for this desk is 48" (W), 25" (H), 30" (D). This is the standard measurement and does not include the measurement when it is fully extended for standing.
Pros:
Easy to assemble
Supports double displays
Very durable finish
Cons:
Can be noisy when it's adjusting
CubiCubi L-Shaped Desk Computer — Best For Those Who Want Larger Working Space
Yes, larger can be better when it comes to desks. Plus, this desk can also save you some space as well. The CubiCubi L-Shaped Computer desk if a standard sized desk isn't enough for you.
This L-Shape design will be perfect for saving space. Better than something that is straight across from one end of the office to the other. This modern design is strong, sturdy, and gives you plenty of space when you need it.
If you have a triple display and a laptop, this desk will be perfect for you. You can be able to move from one end of the desk to the next. This is the perfect desk when you are the 'Big Shot' at the office or if you want something a little fancier.
This comes in different colors including Rustic Brown, Natural, or Deep Brown. This also includes storage drawers when you need to store some important documents or be within reach of some pens or notebooks. This also has a small table gift, perfect for laptops or keyboards.
This is a desk that might not just be for work purposes. But it can also be used for play as well. You could be playing online games or even do some streaming for Twitch. Either way, this is a desk that is perfect for its purposes. And for the price that it's going for, you're getting a steal of a deal. Think about it: you're saving space even for its size and you're saving money compared to some of the other desks that are available
Last but not least, this has a vintage design giving it that timeless look. That's the beauty of having a butcher block desk. It may be brand new, but it will look just like that for a long time.
The measurements for this desk is 66.9" (L), 47.3" (W), 29.1" (H).o
Pros:
Excellent for multiple computer displays
Price is surprisingly affordable
Super durable
Cons:
Assembly can be a challenge
The Features Of Butcher Board Desks You Should Look For
There are plenty of features to look for when you're in the market for a butcher board desk. We will be taking a look at those here briefly. One thing to keep in mind is that butcher board is one of the many types of desks that are available today. One such positive feature that makes them stand out is their durability. They are built to last and have that respectable look that you can find in something like a desk.
One of the features that you should consider is adjustability. Are you willing to sit for longer periods (while taking breaks every 30 minutes to an hour)? Or do you want something that is easy to adjust so you can sit or stand whenever you want to. If you want to avoid the long-term effects of sitting for lengthy periods or if you are always on the go, an adjustable desk (that will allow you to stay standing when needed) is a must.
Another important feature is the assembly. While it's not a feature per se, many people consider assembly as one of the main reasons as to why they chose a desk in particular. You want a desk that can be a one-person job with easy to assemble parts. Thankfully, the desks that we've chosen for this review are easy to put together in about an hour or less.
Size may also be a feature to look for as well. You might want something that is simple like a standard desk. Or if you want plenty of working space, a larger desk (or an L-shaped desk) will be sufficient while saving you office space in the process. It all depends on how much space you want to work with. You could be on a computer and need multiple displays to make working efficiently.
Lastly, there is the color or finish. Some butcher boards may have a darker stain than others. This may not be an all-important feature. But it may come down to which color is more of your preference or matches your personal taste. Take a look at your current office setup and see which finish could blend in nicely with the rest of your office setup.
What is the difference between a butcher block desk and a butcher block table?
While they may be made from the same thing (butcher block), the difference between a desk and a table is still the same. Desks can be supported by legs or can be mounted to the wall. Desks are also used by one person. Meanwhile, a table may be longer in length and supported by legs. Each end and side is a space where people can sit for dinner, a meeting, or for any intended purpose when used.
Plus, there may also be a difference in size between a butcher block desk and a table. Desks may be lower in height compared to tables (or some tables may be lower like a coffee table). At the end of the day, a butcher block table will usually be supported by four legs.
What is the difference between a butcher block desk vs a butcher block countertop?
Clearly, a butcher block countertop would be more suitable in the kitchen than it would in an office setting. Countertops are usually longer and may be higher compared to a desk. Likewise, a desk would be lower in height and even shorter in length.
Does Ikea offer any products recommended as an idea?
Ikea may offer butcher blocks in terms of countertops or possibly tables. As far as a desk is concerned, it may not be possible to find a desk made from butcher block. But you may consider buying butcher block material from Ikea and building out a desk from scratch if you so choose. If you are the DIY type, Ikea may be a good place to start to get part of the project going.
Best Butcher Block Desk Ideas FAQ
Question: Are butcher blocks good for desks?
Answer: The answer is yes. Even if you have a large enough butcher block, it can be converted into a desk. What makes this even more interesting is that you have the option to start from scratch or come up with a more modern design for your office space. Therefore, a butcher block isn't just something that can stay in your kitchen because of its original intended purpose.
Question: Will a butcher block bend?
Answer: One of the things about butcher block is that it will need to be oiled on a regular basis. This is to ensure that they do not warp or crack. If the butcher block is exposed to a warm, humid environment, it will more than likely warp and crack if sitting for a lengthy period of time. Typically, any kind of surface that is unfinished may require you to oil it to prevent warping.
Question: How thick should a butcher block desk be?
Answer: A butcher block desk should be anywhere from two to twelve inches thick. However, it should be thick enough to where it can provide durability and support for what you can put on your desk. This includes a computer with multiple displays or additional office supplies.
Question: What do you seal butcher block with?
Answer: If you want to use a sealant for butcher block to ensure better durability, then consider using polyurethane. This will dry into a plastic-like film that will prevent warping from occurring. This means you won't need to apply any oil at all.
Choose the right desk that is best for you
Butcher block desks have grown in popularity in recent years. But it all comes down to choosing the right one. You may have personal preferences in what you want to look for in a desk. It can be adjustable in height, small in size because of the space you have, or something else.
Not all butcher block desks are created equal. But you can find one that will be fitting for your office space. One of the four options listed above is a good start. You get excellent durability, something that will look nice and neat in your office space, and allow you a place to work day in and day out.
Whether it's an office space at work or at a home office, one of these butcher block desks will certainly be a great fit for you. Finally, consider which desk will be affordable for your budget as well as simple to install. While the two may not go hand in hand, you want something that will be easier on both your time (assembly) and your money.